Hello friends! Thanks for turning up for the 50th edition of Tot Tuesdays! I hope you had a wonderful Easter. K fell and hit his head last Wednesday so we had to rush to the hospital to get stitches in the back of his head. 3 nights with a high fever and nursing a nasty concussion later, he's finally good as new. I on the other hand am far worse for wear and could use another few days to recoup! Wouldn't it be nice if we could call in sick from being a mom sometimes? Hah!
I'm excited to announce that I am officially employed and going back to work starting tomorrow! EEEKKK! I've been a SAHM for 2.5 years so I'm very nervous to get back in the workforce. However, now that I'm a single mom I have decided that I don't feel I can be both the parent and the teacher I want to be right now. And so, although it breaks my heart a little bit to not return to the classroom right now, I have chosen to take on a job as an administrative assistant and will spend what little free time I will now have on my son, taking better care of myself and on continuing this blog.
That being said, continuing to run MDA like it is now is going to be a challenge given I won't have as much time to put into it. I am looking for wonderful bloggers like YOU to help me out. Not only am I looking for people to do a feature post on, I am also looking for regular contributors to write a weekly, bi-weekly or monthly post here on MDA.
Here are some of the topics I am looking for:
-Educational: Arts & Crafts, Literacy, Learning Through Play, Math, Science, Fine/ Gross Motor Skills, Music & Movement, Montessori Activities
-Family Recipes/ Cooking With Kids
-Bargain Shopping/ Couponing Tips
-Parenting: Attachment Parenting, Discipline Strategies
-Personal Health & Wellness: Mom fitness, Mental Health
-Relationships: Tips, stories & creative ideas on dating spouse/ single parenting
If you are interested in being a featured blogger or in writing a regular post here on MDA please find out how to
HERE
.
Now enough with business, here's some great ideas shared at our last party:
If you were featured today here's a button for you:

Tot Tuesdays is for all things TODDLER or PRESCHOOL related including crafts, games, Tot School activities, tips and free printables. Giveaways and Etsy Shops as well as anything not related to young children with be deleted. A button or link back to my blog must be displayed to have your great idea featured on MDA.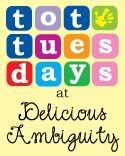 Let's see what you've been up to this week:
Have you voted for MDA as one of the Top 25 Homeschooling Blogs on Circle Of Moms yet? I'd really love it if you'd stop by and vote once a day until May 11th. And of course, support other Homeschooling Blogs by voting for them too! Just click on the following button and click the THUMBS UP beside My Delicious Ambiguity. Easy Peezy!!! :)
When I started this blog I never imagined I'd stick to it for this long or that it would grow to have over 3000 followers. I am truly honored that you stop over and party with me!
Thanks so much for supporting MDA!