Hello! Thanks for stopping by to the 45th edition of Tot Tuesdays! I can't believe we've been at it for sooo long and am ever so grateful that you party with me week after week. Seriously, it is because of you guys that I continue to blog, share and host this party so thank you from the bottom of my heart.
There were heaps of new faces and great projects that I wanted to feature this week, however, many of these links did not display a button or a link back to the party. P
articipating in Tot Tuesdays means
that your blog will gain traffic from over 2000 readers and 500 Facebook fans.
Your link will also be saved in the Tot Tuesdays archives for others to browse year after year. This can mean a huge return of traffic and followers to you.
I don't like to be a meanie but I ask that you display a button or a link back to send me some linky love in return. Helping to increase traffic to the party allows more great ideas and tips to be shared with all who party with us. More traffic also means more sponsors, giveaways and ultimately better content which benefits us all. If you already do this THANK YOU! ANd if not, I'd really appreciate it if you'd take a minute to display a link back or a button each and every time you party with me. The button can be found on the side of my blog and is also included in each Tot Tuesdays post.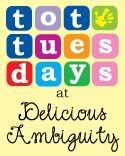 Enough with the business, here's some fun activities shared last week from new faces and party goers who shared the link love. Thank you!:
Dental Health Week from From The Hive
Lego Prints from The Chocolate Muffin Tree
Carrot Fish from The Ramblings And Adventures Of A S.A.H.M
If you were featured today here's a button to display on your blog:

Tot Tuesdays is for all things TODDLER or PRESCHOOL related including crafts, games, Tot School activities, tips and free printables. Giveaways and Etsy Shops as well as anything not related to young children with be deleted.
Let's see what you've been up to this week:
Have a wonderful week and a lucky St Patrick's day!