Happy Tuesday! Thanks for joining me for another great party and for all of the wonderful comments last week wishing K and I a safe trip. After a LOOONG and trying journey we finally arrived home in Canada safe and sound (and cold I might add!). Was definitely a great learning experience traveling alone with a toddler and I've got heaps of tips, stories and busy bags to share with you over the coming weeks.
Here's some clever ideas from last week to help celebrate Chinese New Year:
If you were featured today here is a button for you:

To participate in Tot Tuesdays please follow these guidelines:
1. Link up all things
TODDLER
related including crafts, games, Tot school activities, recipes, tips and free printables. Giveaways and Etsy shops as well as anything not related to toddlers will be deleted.
2. Please display a button or a link back to the party.
3. Stop by some of the other links and say hello. Let them know you are coming from Tot Tuesdays.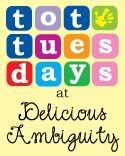 Let's see what you've been up to:
If you haven't already I'd love it if you'd link up to the
Math Skills Linky Party
! Currently accepting links to
posts or free resources that teach n
umber recognition, c
ounting, t
elling time, g
raphing, one to one correspondence, s
ize, c
lassifying and categorizing, p
atterning, s
equencing, m
easurement and m
oney recognition.
Don't forget to
subscribe
to my mailing list to get all blog updates straight to your inbox or become friends on
Facebook
so you don't miss out on any exciting blog updates and giveaways.
Thanks for making Delicious Ambiguity party of your day!