Hi everyone! Thanks so much for joining me for Tot Tuesdays although I'm a bit late. K and I are moving back to Canada on Monday (Eeek!) and I'm busy trying to clean, pack, organize and do all that "fun" moving stuff in 35-40 degree weather without an aircon! It's made for a crazy busy life at the moment and I hope you'll stick with me over the coming weeks as I'm certain it won't be any less crazy! ;)
Anyhoo, here's some new faces and fun ideas from last week:
If you were featured today here's a button for your blog:

To participate in Tot Tuesdays please follow these guidelines:
1.
Link up all things TODDLER related including crafts, games, Tot school activities, recipes, tips and free printables. Giveaways and Etsy shops as well as anything not related to toddlers will be deleted.
2. Please display
a button or a link back to the party.
3. Stop by some of the other links and say hello. Let them know you are coming from Tot Tuesdays.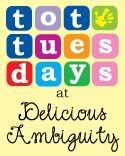 If you haven't already I'd love it if you'd link up to our Math Skills Linky party!
Don't forget to subscribe to my mailing list to get all blog updates straight to your inbox or become friends on Facebook so you don't miss out on any exciting blog updates and giveaways.
Have a great week and Happy Australia day to my awesome aussie readers!