Thanks for joining me for another great Tot Tuesdays linky party. It's good to be back from my blogging vacation and I'm so excited to see what you guys have been up to over the past few weeks.
I really appreciate that you take the time out of your day to stop by and join the party. Although I'd love leave a comment on each and every link I just don't have time but please know that I do make an honest effort to stop by as many links as I can as well as feature new faces and great ideas every week.
Today I'm featuring some lovely ladies that not only showed up regularly last year but also send a lot of linky love my way. Thanks!
Free Printable Christmas Action Cards from Oopsey Daisy
Sock Snowman from Love And Lollipops
You ladies have all been featured here before but just in case here's a Featured button for you.

To participate in Tot Tuesdays please follow these guidelines:
1. Link up all things TODDLER related including crafts, games, TOT SCHOOL activities, recipes, tips and free printables. Giveaways and Etsy shops as well as anything not related to toddlers will be deleted.
2.
I've noticed that many of the links recently did not feature a button or a link back to my site. I ask that you do this to help drive traffic to this party in order to keep it interesting and of course to make new friends. In return, I'd love to feature you here to return the favor.
3. Stop by some of the other links and say hello. Let them know you are coming from Tot Tuesdays.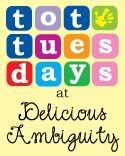 Now that we've got all that business out of the way let's P-A-R-T-Y!!!!
Have a great week!