Umm...wow.... It's Tuesday...again...already.... Shheesh! Where did this past week go?! Sorry if any of you stopped by earlier looking for the party. It's
later than usual but it's STILL Tuesday here in Australia (barely) so I'm posting it now. I'm really looking forward to seeing what you guys have been up to this week!
Here's some fantastic Christmasy ideas from last weeks party:
If you were featured today here's a featured button for you:

Please follow these guidelines to participate in the party:
1. Tot Tuesdays is for all things TODDLER related. Anything not for tots will be deleted (including links to Etsy shops and giveaways).
2. I'd appreciate it if you'd grab a Tot Tuesdays button or display a link back to the party in your blog post. In return, I'll do my best to make sure I feature you.
3. Stop by some of the links to say hello and let them know you are coming from Tot Tuesdays.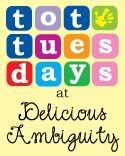 Don't forget you can also link up to The Idea Box too:
Thanks for joining me today. Have a wonderful week!