Welcome to the 32nd edition of Tot Tuesdays! Hope you are all having a great week and Here's some of the most viewed links from last week:
Chocolate Covered Marshmallow Reindeer from
If you were featured today here's a button for you:

Please note that Tot Tuesdays is for all things TODDLER related. Anything not for tots will be deleted (including links to Etsy shops and giveaways). I'd appreciate it if you'd grab a Tot Tuesdays button or display a link back to the party in your blog post and, of course, visit some other links and say "hi".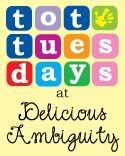 Let's get the party started:
Have you linked up to The Idea Box yet?
Thanks for stopping by today and making Delicious Ambiguity part of your day. I really appreciate it. Have a great week and Happy Thanksgiving to our American friends!