Happy Tuesday!
Thanks for linking up last week and my apologies if it was a bit confusing. Linky Tools wasn't showing the links within a blog post and therefore, to add your links or view the party you needed to click on this further down in my post located after the Tot Tuesdays button:
I'm not sure if that is the case from now on but just in case I thought I would mention it to you. Please leave a comment or message me if you have any problems.
Here's some neat projects and new party goers from last week:
If you were featured today here's a button for you:

There were heaps of great links last week but unfortunately many links added didn't offer a button or link back to my blog and therefore couldn't be featured. I ask that you display a button or link back to Tot Tuesdays to help make this party successful and to keep it interesting with new people and fresh ideas. In return, I'll help drive traffic to you and do my best to feature your great ideas too :)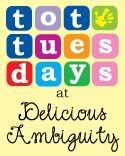 Have you linked up to The Idea Box yet?