Happy Tuesday! Hope you are having a great day and that our American friends had a wonderful Thanksgiving long weekend. Here's some creative ideas from last week:
Free Printable Family Finger Puppets from
If you were featured today here's some bling for your blog:

Please follow these guidelines to participate in the party:
1. Tot Tuesdays is for all things TODDLER related. Anything not for tots will be deleted (including links to Etsy shops and giveaways).
2. I'd appreciate it if you'd grab a Tot Tuesdays button or display a link back to the party in your blog post. In return, I'll do my best to make sure I feature you.
3. Stop by some of the links to say hello and let them know you are coming from Tot Tuesdays.
Here's a button for you to display: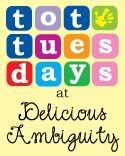 I'm so excited to see what you are up to this week, especially since Thanksgiving is over and there are sure to be lots of Christmas links:
Have you linked up to the Idea Box yet?
Thanks for stopping by today and making Delicious Ambiguity part of your day!