Thanks for joining me for another great edition of Tot Tuesday. Here's some awesome ideas and new participants who contributed last week:
If you were featured today here is some bling to show off on your blog:

I am currently looking for favorite family recipes, educational ideas and resources to teach colours and shapes as well as great ideas for toddler busy bags. If you have something that you'd like to contribute or have come across a great site that would be helpful to Delicious Ambiguity readers, I'd love for you to link them up to my Idea Box.
*Please note that Tot Tuesdays linky party is for crafts, activities, tips, recipes and educational resources that are for toddlers (and preschoolers). Etsy shops, giveaways and anything else unrelated will be deleted.*
To participate in this weeks Tot Tuesday Linky Party please follow these guidelines:
1. Link up anything you've been working on that's TODDLER related.
2. Visit some of the other links and make sure to leave some comment love telling them you are visiting from Tot Tuesdays.
3. Grab a Tot Tuesdays button and place it somewhere on your blog so that others can join in the party. To be featured next week you must display a link back to my blog or a button.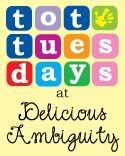 Let's get this party started!
Thanks so much for participating. If you haven't already I would love for you to subscribe to free updates. You can subscribe via RSS FEED or by EMAIL or connect with me on FACEBOOK and TWITTER.