Hello! My name is Emily and I'm sharing with you today from my blog Nap-Time Creations. Thanks Jenn for the opportunity! I'm so excited to be guest posting today.
I'll take a minute to introduce myself before I get onto the crafts! I'm a married (7yrs), mother of one (2 yr old boy) with another due in just a month (we don't know the gender), and I LOVE to express myself creatively. My craft home is a small apartment in Hong Kong, where we also live. I taught here at an International School before "retiring" to have kids. I am willing to try (and do) almost any kind of craft or sewing. I learned a lot of what a know from my mom (sewing) and my grandma (knitting); such a wonderful and useful gift to give a child. More recently I've learned a lot from the Internet, (don't we all!) from do-it- yourself instructions and ideas on other blogs, I am hooked. I started my blog because I was so excited about reading others. Please stop over and look around, leave me comments if you see things you like or have questions!
Here are some of my favorite projects:
Baby earflap hats... my son loved his, but now it's way too small.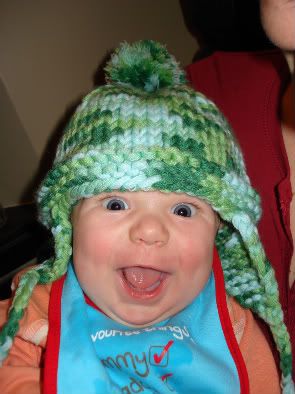 The first project I posted on my blog: a homemade braided rug. My husbands grandma showed me how to make this, I'm the only one in the family carrying on her rug-making tradition. It was super fun, and easy to make, if only I had more room in our apartment to make more.
Here is my first tutorial project: PJ's for my son from an adult shirt redone.
The largest project I have tackled so far was making five quiet books this spring. A few of my son's friends were turning two and I thought the books would make the perfect gift. Here are a few pages...
I also do a lot of paper crafting. Signs, cards, and other decoration... I like to give packs of cards away as gifts.
Well, I had better stop, it would be easy to go on and on, but I don't want to overwhelm this post. Please drop by Nap-Time Creations and get some ideas and share yours!!