I hope my post on Tot School last week gave you some insight on how to get started. Today I thought I'd share with you ten of my favorite websites that give me a lot of inspiration and are sure to do the same for you: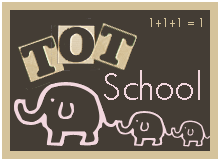 I hope that you find some great ideas from these blogs. Make sure you stop by and tell them I sent ya!
I'll be back next week with some more of what K and I have been working on.