I am so excited that Mother's Day is this weekend because that means Yummy Mummy Week will soon be here! In case you missed the announcement a few weeks back let me tell you more about it:
* Inspiring Ideas And Tips
On home organization, crafting, fashion, fitness, beauty on a budget, meal planning, parenting, cleaning naturally, relationships, romance and taking time for you. I will be featuring two amazing women everyday!
From my fabulous sponsors. You don't want to miss out on these great Mother's Day gifts!
Share
your
story, "mommyfessions" and photos of how

your
body and life has changed since becoming a mother. The blog hop starts on Sunday May 9th and ends on Sunday May 16th. Link up your blog post or leave a comment if you don't have a blog to participate. Be honest, get real and feel inspired as you connect with other moms around the globe!
I hope you'll join me this Sunday for an inspiring week of amazing women. And don't forget to grab a button and tell your friends and readers to hop on over: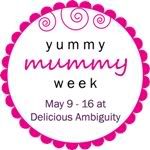 Please contact me at deliciousambiguityblog(at)gmail(dot)com
if you have any questions. See you there!