Hi everyone & welcome to my first ever Tot Tuesdays McKlinky Party. Tot Tuesdays is for sharing crafts, games, songs, Montessori activities, DIY projects made for your toddler, recipes & even tips or stories that parents of toddlers would find helpful. Basically, if it has anything to do with toddlers I want to hear about it!
Let me share with you some of my favorite blog posts that I think you would be interested in:
Please make sure to follow these guidelines when linking up:
1) Link directly to your blog post NOT your homepage so that people can go directly to your project.
2) Enter your blog name then the name of your project in parenthesis.
For example: Delicious Ambiguity (Easter Sensory Tub)
3) Please grab my button & add it to your post so that others can join the party.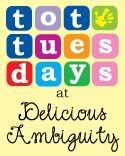 Thanks so much for stopping by & sharing your ideas. I really appreciate it & I hope you'll come back next week as I will be featuring some of my favourites!